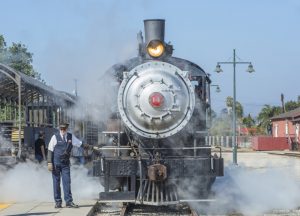 Mark your calendars for one of the biggest events in the little historic town of Fillmore! The 2020 event has been canceled.
Prepare to be entertained and amazed by what can only be imagined as the "Renaissance of Railroading." This festival takes place April 25-26 in the little historic town of Fillmore is a celebration of the steam engine and railroading and will feature antique tractors, vehicles & engines, vintage wares & oddities, unique performances, early transportation and culture mixed with a bit of Steampunk fun.
There will be live steam locomotive train rides, Orchard Bluegrass Band, a Fillmore Citrus Packing House Caboose Ride Adventure, Dr. Solar's Gypsy Wagon Medicine Man Show, antique carousel rides, creative vendors & artisans, unique exhibits, model train displays, movie props, live entertainment, food, wine tasting & more!