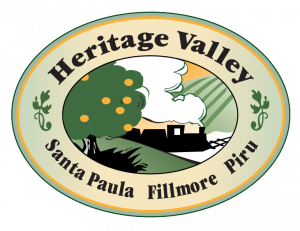 Buy 2 Adult Get 1 Child or Youth Free
on the Fillmore & Western Railway
Weekend Scenic Train through the Heritage Valley!
The Heritage Valley Tourism Bureau invites you to discover the Historic Highway 126 Corridor of Unique Small Towns and Scenic Rolling Countryside. Take the Fillmore and Western Weekend Scenic Train and get this special offer:
Buy 2 adult get 1 child or youth free on the Weekend Scenic Train.
Cannot be combined with other offers or coupons. Must reserve by phone.
Call for reservations and schedule:
(805) 524-2546
Approximately 30 minutes from Santa Clarita on Hwy 126 is the small historic town of Fillmore, CA.  At the center of town is the majestic Fillmore & Western Railway Co.  This legendary railroad is home to vintage passenger and dining cars that date back as far as 1914.  It's also home to a 1913 fully restored and operating #14 Baldwin Steam Engine.  Fillmore & Western is known as the "Home of the Movie Trains" that have been used in film productions such as Disney's Lone Ranger, Water for Elephants, Sea Biscuit, Get Smart, Bedtime Stories, Race to Which Mountain, Tall Tail, Inception, Anger Management, Fear Factor, X-Files, Bones, Westworld (currently), American Horror Story, Criminal Minds, CSI and many more.  They welcome all production companies to visit and contract with them to film either on-site or on location throughout the United States.  Additionally, they have a wide variety of train related props for use on sets.
Another amazing part of this railroad is the opportunity to ride the movie trains!  All year long they offer train tours such as Weekend Scenic adventures, Murder Mystery Comedy Lunch & Dinner trains, Holiday trains, Special Event trains, Steam train rides, School trains & privately chartered Group trains.  They were recently featured on Buzzfeed for their Murder Mystery dinner train (see FB video at https://www.facebook.com/buzzfeedbringme/videos/1861155477252605/).  Fillmore & Western thanks VisitSantaClarita.com and the Santa Clarita community for their ongoing support of the railroad.  Visit their new website at FWRY.com and "Like" them on Facebook.
Buy 2 Adults Get 1 Child Free Offer is valid for Weekend Scenic phone reservations only!