During your trip to Six Flags Magic Mountain, include area activities bound to please everyone in your group. From nature trails to historical sites to shopping, you'll find so much to do in Santa Clarita, California.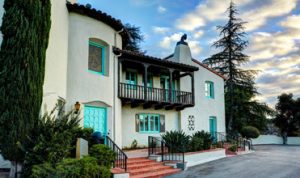 This is the former home of the famed silent film actor and director who produced a series of hit Western movies in the early 1900s. His beautiful Spanish Colonial Revival style mansion – now the William S. Hart Museum – exhibits an impressive collection of Western artwork as well as mementos from early Hollywood, personal furnishings and effects, and artifacts representing multiple Native American cultures. The Hart Museum is a tribute to Southern California history. It also includes an historic 1910 ranch house that exhibits Hart's tack and saddle collection. Both the mansion and ranch house are located in scenic William S. Hart Park, where guests may enjoy visiting a live collection of farm animals, a herd of American bison, a vast picnic area, a series of hiking trails, and a charming Western-themed gift store. Free guided tours are offered year-round at the William S. Hart Museum. Come on out and experience Southern California history and connect with nature, history, and Hollywood, while experiencing the life and legacy of the legendary William S. Hart.
Trails
Enjoy more than 70 miles of picturesque Santa Clarita trails and paseos designed for recreational use, including walking, riding, jogging, and skating. The regional river trail serves as the backbone of the trail system. Together with connecting trails, you can access parks, entertainment and shopping venues.

We have not one, not two, but three of this So Cal favorite! Devour that cheeseburger, sip the chocolate shake and order the animal-style fries.
Vista Valencia golf driving range
Just south of Six Flags Magic Mountain and 30 miles north of downtown Los Angeles, Vista Valencia is easily accessible from the 5 Freeway. This 27-hole facility features an 18-hole, par 61 executive course, and a 9-hole, par 3 course in a park-like setting.
The Placerita Canyon Park, a 350-acre wildlife sanctuary located at the Western end of the San Gabriel Mountains in Southern California's Santa Clarita Valley, features seven different trails, covering more than 12 miles. A picnicking area is available near the Nature Center and you can learn the history of the Oak of the Golden Dream. Family Nature Walks at and Native Live Animal Presentations are available year round. It's an amazing place to get a glimpse at the natural beauty of Southern California through trail hikes, animal presentations, and walks.
Central Park
The park features four baseball diamonds, eight soccer fields, three basketball courts, one cross country course, and eighteen disc golf holes. Alongside ample sports facilities, Central Park has many other amenities, such as a concession stand, picnic areas, extensive open space, a designated child play area and two dog parks. Central Park is also host to several entertainment events throughout the year including the annual Concerts in the Park series.
Westfield Valencia Town Center
Offering a two-story indoor Santa Clarita shopping facility as well as two lush outdoor shopping districts, Westfield serves as Santa Clarita's premier lifestyle destination featuring a variety of dining options, fashionable boutiques and family retailers. Take a stroll along the quaint and luxurious Town Center Drive to Edwards Valencia Stadium 12 for an afternoon or evening movie or stop into The Ivy Day Spa to pamper yourself. Experience the finest in shopping and dining as well as a year-round calendar of special events.
The Gentle Barn is currently home to over 100 animals who are rescued and given sanctuary from abuse. (Yes, it's that one you heard about on Ellen) Once the animals are rehabilitated they stay at the Gentle Barn in Santa Clarita for the rest of their lives and serve as ambassadors helping kids learn kindness, compassion, confidence and reverence for all life. Visit The Gentle Barn and groom the horses, brush the cows, hold the chickens, give the pigs tummy rubs, hug the goats and sheep, hypnotize the emu, sit under the shade trees, munch on popcorn, and make new friends. They are open to the public on Sundays.
Thursdays at Newhall

FREE Evening Events on Thursdays!
Old Town Newhall transforms from a bustling retail and dining destination by day, to a thriving arts and entertainment district by night, Visitors are invited to enjoy free weekly entertainment and nightlife on Main Street every Thursday evening at these events: